Dear Dance & Company Dancers & Families,
We hope that you are all remaining safe and healthy as we navigate through this pandemic.  On behalf of Lisa, myself and our entire staff, we wanted to send an update and include a message to let you know how much your support and encouragement has meant to us during this very difficult time. As a team, we are managing to get through this together and we look forward to seeing all of you back in class when the state laws and public health status permits.
We are now on Zoom! Please check your emails daily for the class links. It's been so amazing having you all in virtual dance class.
Some of our zoom classes are recorded and we've uploaded them into their respective class categories below. Enjoy!
Scholarship Fund for Dancers who's families are suffering financially
"How can we help?" – a question we've been asked by many since having to close our doors 5 weeks ago. 
We've always had an anonymous scholarship program for dancers and families in need, but now it's all the more relevant. Here's what we've been working on — 
We don't have a traditional small business where you can support by shopping for goods. 
Lisa and Katie reconfigured the scholarship program over the last several weeks and we are now accepting donations for those who are willing and able to contribute. It's a win-win. You're supporting Dance & Company so that we can keep our dancers dancing (on Zoom!). Thank you for helping us help them.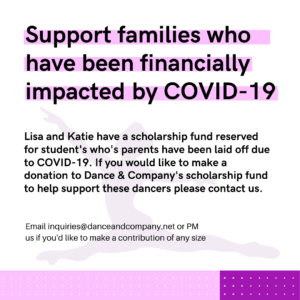 PayPal:  paypal.me/danceandcompany
Do you have friends or family that you want to share our classes with? Whether it's one of our dance or fitness classes, we are now welcoming others to join our classes with a $10 suggested donation per class; All donations we receive go directly into our scholarship fund. Thank you for those of you who've already offered to get your friends involved; we appreciate the support so very much.
***Please do not share with anyone outside of Dance & Company unless they email us directly to sign our waiver.
D&Co Quarantine Activities
&

Videos
Below you can find the pre-recorded videos we put together for you separated by class style, mainly focusing on Production choreography. Also within each class category are the live Zoom classes we recorded.
You don't just have access to your own classes. ALL students have access to ALL videos. This is one of the benefits we are offering our monthly tuition students. We thought it would be great for our students to have an inside look into different instructor's styles, classes, levels and choreography. Even if you don't participate in a certain style, maybe you've been wanting to try – and we totally encourage it.
Some videos are strictly Production choreography (with no warmup or class attached) but most videos have at least a some sort of warm-up and exercises included.
*Tip: You can slow down the playback speed of the videos on youtube by clicking the "settings" knob on the video screen. It's a great way to get a clear understanding of the exercises and choreography and to follow along at home.
Here is a list of resources and fun activities for all of our dancers, both young and older to keep busy at home and to keep us thinking about our dance classes and goals.