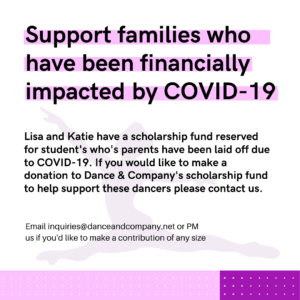 "How can we help?" – a question we've been asked by many since having to close our doors 5 weeks ago. 
We've always had an anonymous scholarship program for dancers and families in need, but now it's all the more relevant. Here's what we've been working on — 
Lisa and Katie reconfigured the scholarship program over the last several weeks and we are now accepting donations for those who are willing and able to contribute. It's a win-win. You're supporting Dance & Company so that we can keep our dancers dancing (on Zoom!). Thank you for helping us help them. 
PayPal:  paypal.me/danceandcompany
Do you have friends or family that you want to share our classes with? Whether it's one of our dance or fitness classes, we are now welcoming others to join our classes even if they aren't a member with a $10 suggested donation per class; All donations we receive go directly into our scholarship fund. Thank you for those of you who've already offered to get your friends involved; we appreciate the support so very much.
***Please do not share with anyone outside of Dance & Company unless they email me directly to sign our waiver.